GEMMA OWENS
Owner and Senior Instructor
The picture top opposite is me aged 5yrs riding Coco. This pony was the local rag and bone man's driving pony ,that came to the farm for his annual holidays. I can vividly remember begging my brother Guy, to let me ride him. My parents were separated at the time, Dad was out and Guy was responsible for me. The only problem was, we didn't know if Coco was broken to ride. Anyway, we soon found our answer. I was sat in front of Guy to start with, he said whatever you do don't KICK. So out of devilment you can guess what I did !. Coco did a huge buck, Guy landed in a huge pile of cow poo and I landed on my feet. You can see from the photo that through that summer I persevered, resulting in Coco becoming a ride and drive pony. You are never too young to start learning.
Eventually my parents divorced and through those circumstances I did very little riding from aged 11yrs to 19yrs. Being the competitive, energetic person that I was I pursued a successful sailing career, I was selected for the Olympic Squad aged 15yrs. The hard work and discipline focused me, but unfortunately I was intimidated by the other children, they came from very different background to me, with huge incomes, but also at school I was bullied for I guess my success and posh hobby. It was a really difficult time in my life and the one thing that gave me emotional stability was being around horses. They don't judge you, they might bully you lol, but they are sincere and genuine. We had very little money and I can actually remember consoling my mum one day by telling her my dream of running a riding school. She used to say "well one day, when you have your own money, you can have as many horses and ponies as you want ". Plumtree was a dream for me that had kept me going through hard times that began aged 8yrs.
The second photo is me, Heather, Fred and Emily , competing at Allerton Driving Trials 2017. The water obstacle is always my favourite, the adrenaline is brilliant.
The third photo is me with Zuki in my arms and Ruby by my side. You will most likely find me with a dog attached as I have five dogs in total. I couldn't imagine life without a dog ,I love them to pieces Their loyalty and love for life is priceless. They are my best friends and travel everywhere with me.
The bottom picture is my beautiful mum, Janet Yarwood, me and my stepdad, Kerry Yarwood. We are a family business and without their continued love, support and encouragement Plumtree wouldn't exist.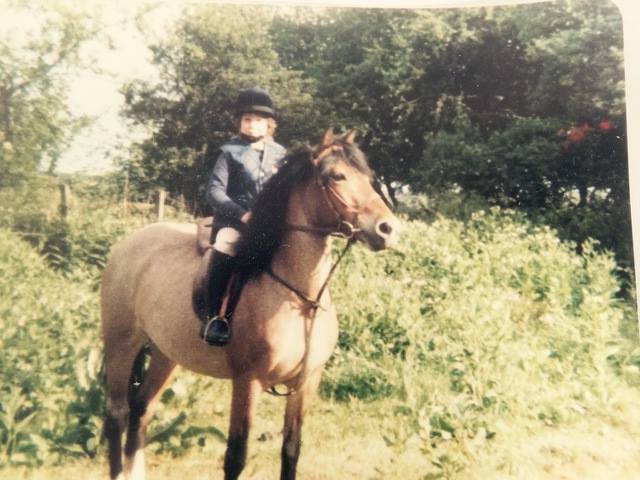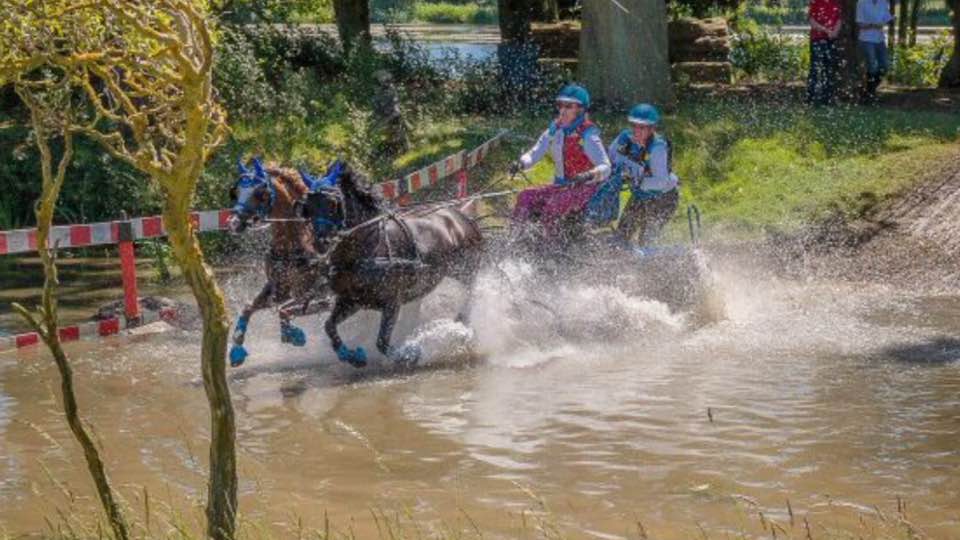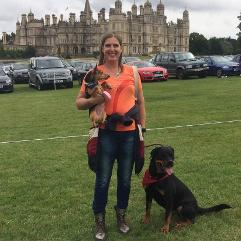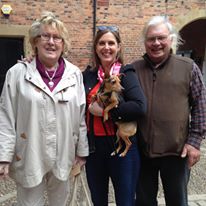 LIZ MOFFATT
My first memory is my Grandpa lifting me up to see the horses, big shires and Hunters. My great Grandad used to put him and his brothers all on the back of the family cart horse !!!!.
I enjoy teaching to see the "eureka" moments and riders massive smiles. I love how a simple lesson can have amazing results. Riding gives me huge enjoyment.