Katy Halbert : Plumtree groom.
Katy is at university and works at Plumtree School of Equitation part time.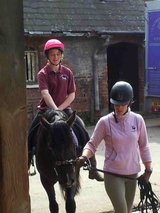 Robert Halbert: Yard manager.
Robert is pictured here clipping Bailiey, one of the riding school horses. Robert has been at Plumtree for a long time and is a great team member. He is always reliable and dependable, works hard and has a smile on his face. One of the most natural people we've met around all animals - a massive attribute in his chosen career with horses. Coming from a family with great knowledge and experience with horses makes Robert a confident team member.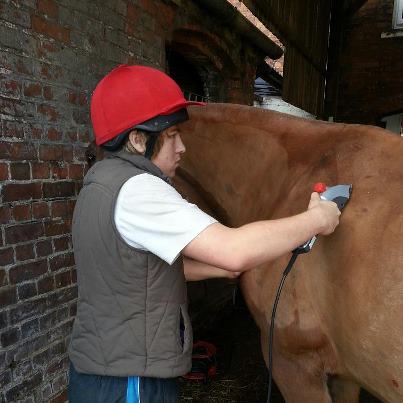 Heather Murray: Instructor and office manager at Plumtree School of Equitation.
Heather and Gemma first met when Heather began riding lessons at Plumtree - Gemma actually began teaching her stable management lessons. Then, one day there was a staff crisis. Looking back in time it was an amazing set of circumstances that led Gemma to call Heather and ask for her help with the 24 horses that and no staff. She was a 'knightess' in shining amour then, as she still is to this current day. We are a great team and have been through some very tough times as well as some very funny ones together. Officially speaking, her main responsibilty at Plumtree is to cover the teaching when Gemma is away and most importantly she is the accountant and purse holder at Plumtree. Heather handles most of the enquiries regarding the booking of lessons, which leads her to organise our working week. Her most valued role for Gemma is that she is her best friend and number one supporter - something everyone needs.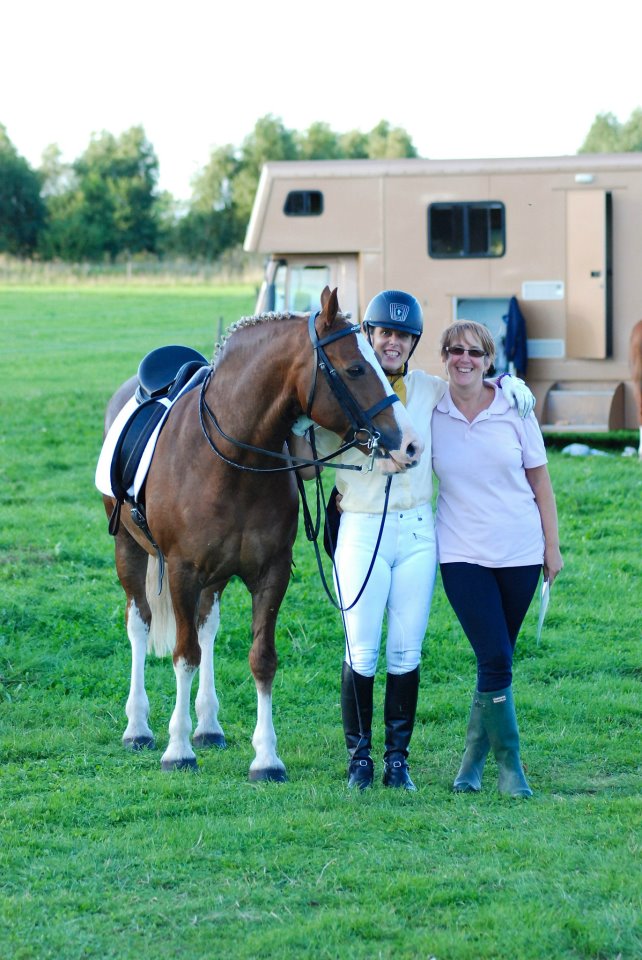 Gemma Owens: Chief instructor and owner of Plumtree School of Equitation.
In this list of the Plumtree team, Gemma has deliberately placed herself last as without any of the people above she couldn't run the business at all. Gemma is very passionate that all the staff in equestrian based employment should see their jobs as vital for the business to survive. Most importantly, the whole team sees that the health and welfare of the horses is paramount. Robert and Katy both learned to ride at Plumtree and have basically grown up there. In the history of Plumtree our current team is the best we have ever had because the one thing that we all share is our enthusiam, love, dedication and maybe, the addiction of the horse. Long may it continue!
This picture is of Gemma riding Rosie, competition name Red Snapper. She is extremely grateful to her family and her friend Karen Harris who helped her financially to buy Rosie as well as to Heather who didn't say, "No, we cant afford her." Rosie is one of many horses that Gemma is truly lucky and privileged to have had in her life. Gemma says of Rosie, "All my competition horses in the past have been geldings for the reason that I felt my temperament wouldn't work with a sensitive mare. Two sensitives making a nightmare.......literally. But I guess I'm like a fine wine and I've matured with age. Don't get me wrong, Rosie is very different to the geldings that I have trained, however she is teaching me lessons about mares that I am thoroughly enjoying. At every dressage competition that we go to, Rosie is growing her own fan club due to her unusual colouring and very elegant way of moving. She was very sucessful in her first year of competing and qualified for 4 festival finals. I'm really excited to see what we can achieve together and love sharing her progress on Facebook with her fan club."